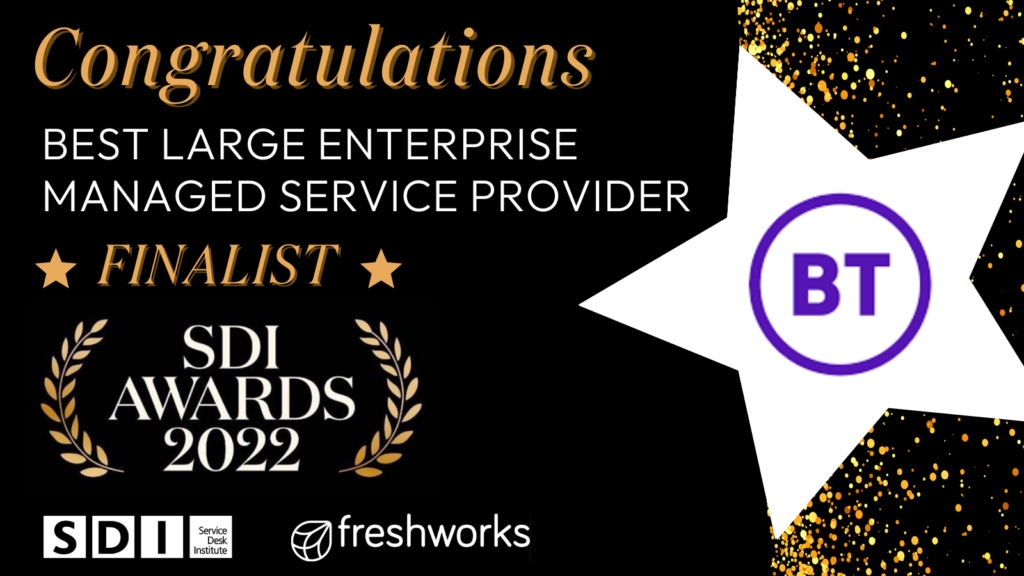 In the run up to the SDI Awards 2022 gala dinner and prize-giving on 22 March, we've been asking our finalists about their experiences, reasons for entering and hopes for the future. Here's the story from BT:

Finalist – Best Large Enterprise Managed Service Provider 2022
What made you decide to enter the awards?   
Awards are a great way to recognise the dedication and skill of team and lets them know we truly value their work. We also wanted to build a stronger relationship other SDI member, as we value the work they do across the industry. 
What part of the awards process did you enjoy the most?   
The SDI Final call on Zoom where we had a Day In Life of Session with the judges, It was really great to hear and see the judges and the whole team were impressed with their knowledge and challenging questions – but most of all they really seemed to get what we did – even more than some of the people in our business.
In the last 12 months, what has been the most successful initiative your team has implemented to help your business improve its performance?   
Setting up a Product Supply Business Service Desk for customer kit ordering. We took an old-fashioned process – ran by a small number of experts – who were all leaving the business at the same time- we documented all their ways of working, and tricks of the trade, in a really short time and despite the global logistics problems – our product supply is getting massive plaudits – We really feel great about this one as most people thought we would never make it work. 
What are your top 3 tips to make a service desk successful?  
1. Positive Attitude – Having positive attitude means being optimistic and staying resilient even in darkest hour. We have cultivated passion and commitment for the work we do and developed a culture of never giving up. 
2. Great Leadership – Our recognition is through our people and their devotion to our values and principles. Hence our leadership team never shy away in rewarding great efforts and appreciates spirit of teamwork. Rewards and recognition are the true way of showcasing an organisation's immaculate pool of efficient resource under the guidance of a noble leader. 
3. Perpetual Improvement Culture – There's always room for improvement!! We believe in continuous improvement and have always advocated to instil the culture within the organisation. To support our claim, we have evidence of CI projects showcasing automations reducing manual efforts, proving FTE savings, and restructuring overall process to redefine process efficiency and customer experience. 
What one thing do you think really makes you stand out as a service organisation?   
A "Can do Attitude" in every team member really makes us stand out as a service organisation. We are confident and willing to deal with difficult new tasks, as opposed to complaining or giving up. 
How are you preparing to evolve your service desk over the next few years? Please share your most exciting plan with us!   
We are planning to have micro service desks within our shared area where customers will get the benefit of the larger community but see all project management, software deployment and billing issues handled by a small team – totally underpinned by the best knowledge management and attitude 
If you could choose any celebrity to work on your service desk, who would it be?   
Ant & Dec – they would never need to be persuaded to keep chatting to customers and our customers would love them… plus we get two for the price of one! 
What does it mean to your team to be a finalist in the 'Best Large Enterprise Managed Service Provider' category?   
Being a finalist was a huge achievement. We were overwhelmed and super excited to be the finalists, honestly speaking we were emotional and in tears to see our hard work getting recognized in such a big platform like SDI. Whether we win or not we think it's a wonderful way to show appreciation for employees and their efforts, in addition to raising morale. 
What advice would you give to anyone entering the awards next year?   
Don't be afraid to explain what your business does and even if it is a complex piece of work explain it with simplicity and don't be embarrassed to say how complex your business is – and be proud of how you simplify it for your customers.
A few tips – plan ahead, start early, keep it simple, prove it and learn from experience.
What would you do to celebrate if your team won 'Best Large Enterprise Managed Service Provider'?  
When we win we will open champagne, cheer and celebrate loudly and get on the phone to our 24 hour operations teams to let them know… and spread the magic of BT's managed service to all our customers and colleagues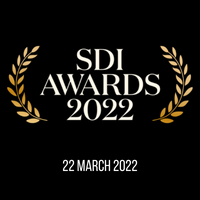 Find out more about this year's Awards categories and watch the highlights from the last Awards ceremony for a taster of this incredible event and what it means to our community.
SDI Awards are sponsored by: