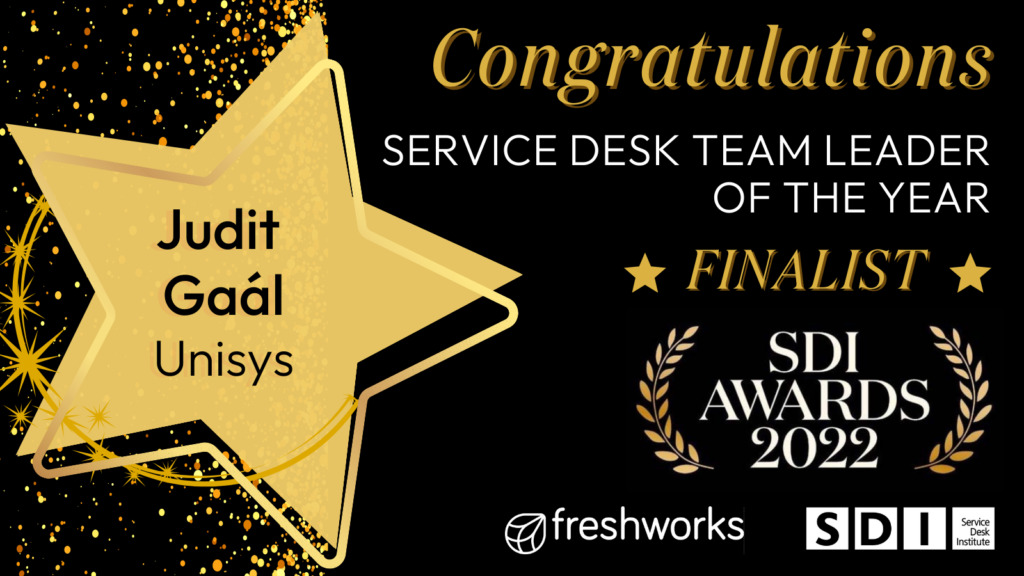 In the run up to the SDI Awards 2022 gala dinner and prize-giving on 22 March, we've been asking our finalists about their experiences, reasons for entering and hopes for the future. Here's the story from Judit Gaál:

Judit Gaál, Unisys
Finalist – Service Desk Team Leader of the Year 2022
What made you decide to enter the awards?  
My leadership team spotted the opportunity and encouraged me to apply. The preparation has been a very exciting learning process that reinforces one's professional self-awareness, helps you realize where you stand and gives you further motivation.  
This award also offers an excellent opportunity to showcase what you have achieved so far by working consistently and fearlessly with your team, peers and management.   
What part of the awards process did you enjoy the most?  
Definitely the presentation to the judges! Daily operations can be quite hectic, preparing my slide deck allowed me to stop and think about my achievements from the past 18 months. Presenting it was a really pleasant experience where the panel created a friendly atmosphere and showed real interest in our work. 
Why did you choose IT support as a career?  
Working in this industry and especially in my current position is a very complex activity that offers plenty of challenges. It also provides many ways and opportunities to learn new skills yourself on one hand, and to build your team on the other so they can acquire new skills. This supports them in developing further and eventually getting promoted.  
Our Service Desk environment is very diverse (it is enough to think of the fact that we have people from 53 countries working at our Hungary organization) – being a leader of one of these teams present a challenge, rewarding and motivating experience at the same time. 
In the last 18 months, what has been the most successful initiative you have implemented to help your business improve its performance?  
 Building on our popular Service Desk Seniority training and mentoring concept we are in the process of creating a community for our senior agents. This tenured community will serve as a great "alumni" program for our best Level 1 agents providing them with additional meeting and training opportunities, supporting them to deep dive into IT support related topics and also to get a better understanding and support in advancing with the careers further. 
These meetings will also give our senior agents a great opportunity for networking. The approach fits perfectly in Unisys's upskilling program landscape which is aiming enhance user experience by enhancing knowledge and  increasing motivation of our analysts.  
What are your top 3 tips to make a service desk successful?  
Be patient and consistent

 

Trust and empower your team

 

Be brave enough to change things

 
+ 1 more : Smile and have fun!! 
What one thing do you think really makes you stand out as a support professional?  
Have a calm and balanced attitude whatever happens on the desk and smiling even in the most challenging situations is the greatest of tool a leader can use. Come what may, I maintain open and positive communication and keep my sense of humour. This helps to create a supportive atmosphere that contributes to  keeping my brilliant team super motivated. 
How are you preparing to evolve your service desk over the next few years? Please share your most exciting plan with us!  
My current team is in a phase of growing and evolving with innovation and automation driving most of the changes.  
Helping our clients through automation-based solutions for simple and repetitive tasks opens the opportunity to shift their focus towards more complex, value-add activities. To prepare them for this new era we've established a wide range of upskilling training programs & community for senior agents.   
What does it mean to you to be a finalist in the 'Service Desk team Leader of the Year' category?  
Being selected as a finalist was a great and objective recognition of my efforts and at the same time, a recognition for my team and Unisys. All in all, this is the most prestigious feedback I have ever had. 
Selection itself already was an exciting process – especially considering the level of support I've received from my team, my peers and management. They were following all steps of the process closely and even created a short video as a surprise, talking about me and our working relationship which I could bring to the judges' session. After the session with the SDI judges they could not wait to hear news on how it went and they are all very much looking forward to hear about our adventures on the awards ceremony in March. We have such a great community! 
What advice would you give to anyone entering the awards next year?  
The best way to show your achievements is to discover and demonstrate why you enjoy your job, and what it is exactly that is motivating you day to day and pushing you toward your goals.  
What would you do to celebrate if you won 'Service Team Leader of the Year'?  
First say thanks to the people surrounding me in my company at all levels, and then have a great party with as many of them as possible to share the news and the recognition.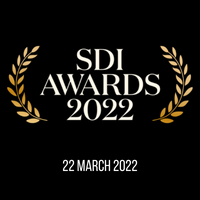 Find out more about this year's Awards categories and watch the highlights from the last Awards ceremony for a taster of this incredible event and what it means to our community.
SDI Awards are sponsored by: