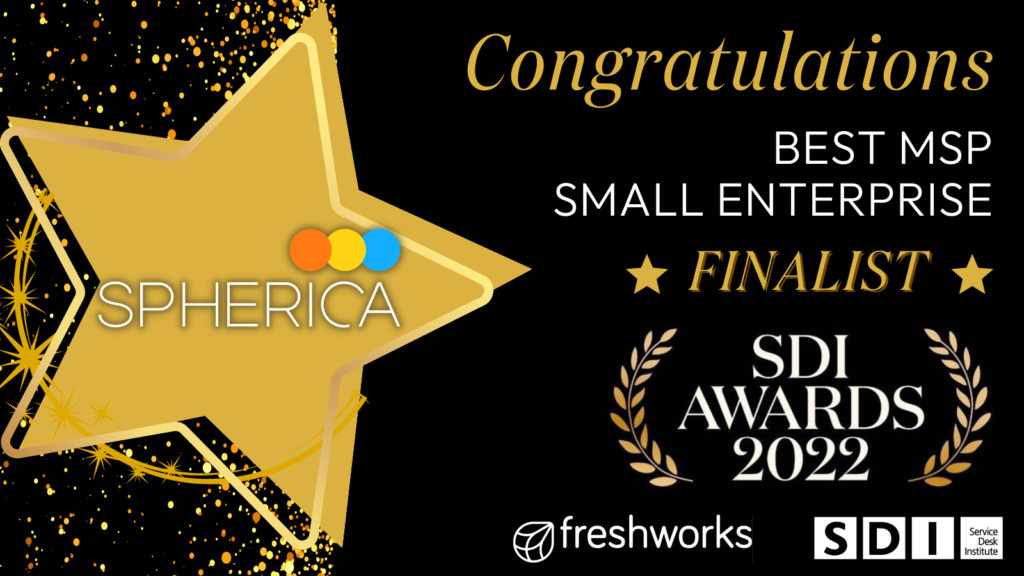 In the run up to the SDI Awards 2022 gala dinner and prize-giving on 22 March, we've been asking our finalists about their experiences, reasons for entering and hopes for the future. Here's the story from Spherica: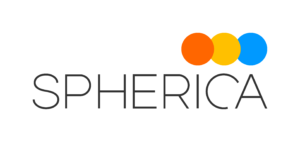 Finalist – Best Small Enterprise Managed Service Provider 2022
What made you decide to enter the awards?   
We are new SDI members this year and have been really impressed by the organisation and the member services, so we'd love the prestige of winning an SDI award. We also have a genuine USP in our automation-first Managed Services proposition so we'd like to raise awareness of the benefits of an automation-first approach to the SDI audience.  
What part of the awards process did you enjoy the most?   
Showcasing what we do to the judges at the 'judges houses' stage and creating the 2-minute video, which got us out of our comfort zones and unleased unknown talents from the team!  
In the last 12 months, what has been the most successful initiative your team has implemented to help your business improve its performance?   
We have a digital innovation division called Synaptek which was launched in 2019 to ensure we have resources dedicated to identifying how emerging technology can improve ways of working. Over the last year, this team of automation engineers have developed a custom-built intelligent service management platform to improve the speed and consistency of the services we deliver for our clients.  
We're also very proud of the employee lifecycle management automation we've delivered for a number of clients, known as the "Joiners, Leavers and Movers automation". This automates common onboarding and offboarding tasks which are usually time consuming, mundane and at risk of error. The automation delivers benefits across both the IT function and HR as it increases the speed, consistency and accuracy of the tasks involved in employee lifecycle management. For one customer, it saved 40 hours per month of service desk time and saved six-figures in timely license deactivations.     
What are your top 3 tips to make a service desk successful?   
User experience should be at the heart of everything.

 

Communication is vital. If something can't be fixed quickly, keeping the user informed will help to manage any situation.

 

Automate the repetitive, mundane tasks that keep your teams from doing their best work – put technology to work where it fits best to give your teams more time to focus on delivering the best experiences.

   

 
What one thing do you think really makes you stand out as a service organisation?   
Our automation-first approach to IT transforms the traditional IT Managed Services model. As the complexity in modern IT environments increases and the demand for more digital services continues to grow apace, automating tasks that are time consuming and at risk of human error is essential for survival in the digital era. Our approach enables talented techies to spend more time on higher-value tasks and innovation, ensuring that the technology strategy of our clients' businesses is aligned with their long-term goals.  
How are you preparing to evolve your service desk over the next few years? Please share your most exciting plan with us!   
We are evolving our intelligent service management platform and building more 'out of the box' automations to enable us to deliver the business-changing benefits of our automation-first approach faster than ever.  
If you could choose any celebrity to work on your service desk, who would it be?   
Brian Blessed – There is no mistaking that quintessentially trustworthy voice, and all the parents out there will be comforted by the dulcet tones of Grandpa Rabbit – the only good thing to come out of Peppa Pig!!
What does it mean to your team to be a finalist in the 'Best Small Enterprise Managed Service Provider' category?   
We have worked so hard to reinvent our business and develop a proposition that truly puts customer success at the heart of everything we do, so it would be such an honour to be recognised as innovators in our sector.  
This is our chance to demonstrate to the industry and our peers how innovation is shaping our industry and aligning technology strategies with business goals. Service desks are an integral part of citizen experiences, employee experiences and business success and we're passionate about enabling our teams to be the best they can be by harnessing technology to empower them.   
What advice would you give to anyone entering the awards next year?   
Be clear on your USP and advocate for how IT services are a vital part of business success and an integral cog in customer experiences. Help to change perceptions of IT service providers from doers to enablers and innovators. If you're lucky enough to be shortlisted as finalists, put the effort into your video to make sure it demonstrates why you're brilliant!     
What would you do to celebrate if your team won 'Best Small Enterprise Managed Service Provider'? 
Have a long-awaited, whole company, in-person party – and flood our socials with award night spam!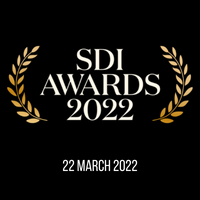 Find out more about this year's Awards categories and watch the highlights from the last Awards ceremony for a taster of this incredible event and what it means to our community.
SDI Awards are sponsored by: