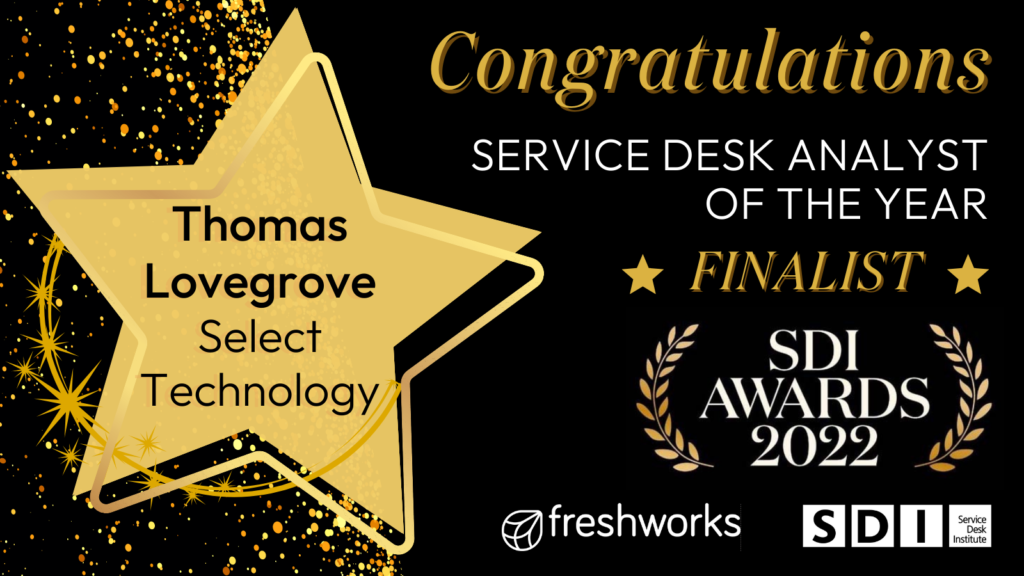 In the run up to the SDI Awards 2022 gala dinner and prize-giving on 22 March, we've been asking our finalists about their experiences, reasons for entering and hopes for the future. Here's the story from Thomas Lovegrove:

Thomas Lovegrove, Select Technology
Finalist – Service Desk Analyst of the Year 2022
What made you decide to enter the awards?  
I didn't directly enter the awards however my director nominated me to acknowledge my hard work and dedication. I was completely oblivious of the recognition, and it was a pleasant surprise when I found out I was shortlisted!  
What part of the awards process did you enjoy the most?  
I thoroughly enjoyed the whole process knowing I was being considered for this prestigious award, which filled me with confidence and joy. More specifically, I enjoyed the interview with the judges and having the opportunity to talk to a previous winner of 'Analyst of the Year'.  
Why did you choose IT Support as a career?  
I started my IT career working for an in-house IT team in more of an assistance capacity to the network administrators to help lighten their workload. This role was a launch point for my chosen career path, however I was soon ready to move on for more of a challenge. Therefore, I made the transition over to an MSP to kick-start my IT support career to grow and progress my technical knowledge. It transpires to be the best decision I have ever made, as I am able to challenge myself and keep learning daily. To be able to learn, better myself, my knowledge and to be an integral part of a successful team is something I've always wanted, and IT support has rewarded me with this. 
In the last 18 months, what has been the most successful initiative you have implemented to help your business improve its performance?  
I was given the task of installing some new PCs this year for a client and identified that there were inconsistencies in the process so set about implementing a new PC installation process for all our customers. I created an automated system that works across all customers and can be carried out by any engineer.  
This particular project met the specific objective of reducing the amount of time it takes for an engineer to deploy a device, typically 1 hour workshop time before deployment. This has saved us all time (45 minutes per PC) and has improved customer satisfaction. I love coming up with new ideas and processes to help the team be more productive and efficient, making everyone's lives easier.   
What are your top 3 tips to make a service desk successful?  
There are multiple tips that I would recommend and suggest to a service desk for success.  
Not only is teamwork and integrity pivotal, but you should always set out to do the best job you can every day while taking on any new skills to develop yourself as an analyst. 

 

One of my favourite attributes of any IT team is to be tenacious about the role you undertake individually and the role your service desk plays within your business and alongside your customers. 

 

My third and final tip would be to make sure you enjoy working in the field you have a passion for. If you enjoy what you do, all the above becomes second nature. 

 
What one thing do you think really makes you stand out as a support professional?  
My positivity. Maintaining a positive and open relationship, supporting customers, and feeding off colleagues' experience and existing knowledge to further myself. 
How are you preparing to evolve your service desk over the next few years?  Please share your most exciting plan with us!  
The introduction of an instant support team that primarily work on the quick wins breaking away from the traditional model of a ticketing system and waiting on a call back. Having an instant support team will allow the other analysts to work on the complex tickets, making it easier to meet SLAs – providing a better customer experience ensuring contract retention.  
What does it mean to you to be a finalist in the 'Service Desk Analyst of the Year' category?  
I feel appreciated and humbled by the recognition from my team and manager that they even nominated me for this award, so to make it through to the final is a great honour. However, I don't work hard just for recognition – I genuinely enjoy my role and take pride in doing a great job. 
What advice would you give to anyone entering the awards next year?  
Be confident in your own ability, be yourself, get your head down and work hard, take every day with a positive outlook. 
What would you do to celebrate if you won 'Service Desk Analyst of the Year'? 
If I was fortunate enough to win this award I would go out for a celebratory meal and drinks with friends and family.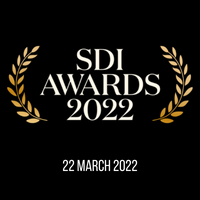 Find out more about this year's Awards categories and watch the highlights from the last Awards ceremony for a taster of this incredible event and what it means to our community.
SDI Awards are sponsored by: