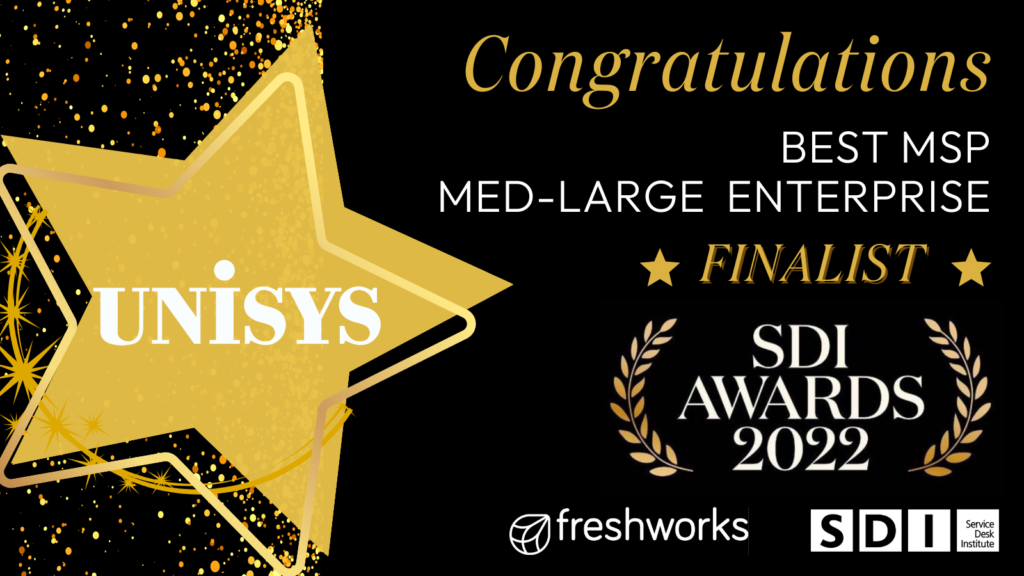 In the run up to the SDI Awards 2022 gala dinner and prize-giving on 22 March, we've been asking our finalists about their experiences, reasons for entering and hopes for the future. Here's the story from Unisys:

Finalist – Best Large Enterprise Managed Service Provider 2022

What made you decide to enter the awards?   
The Service Desk Institute is a globally recognized organisation, advocating the highest levels of performance and service within our industry. The Unisys Global Service Desk takes pride in providing an exceptional end user experience to our international client base and, naturally, we are eager to share our knowledge, achievements and excellent team performance with the wider SDI community. 
At Unisys, we believe in better and we wanted to showcase our capabilities and achievements by entering SDI Awards 2022.  Here, you have the opportunity to learn new skills, apply your expertise, and solve complex problems with cutting edge technologies and solutions. Our Service Desk team are at the forefront of everything we do, driving our clients' successes while giving back to communities and making this world a safer and more secure place to live and work.  Our success is a direct result of the work of our people who live and breathe our Core Beliefs of client centricity, integrity, curiosity and creativity! 
What part of the awards process did you enjoy the most?   
We have thoroughly enjoyed the whole process, particularly the chance to present in front of the SDI judges. Not only was it an excellent opportunity to showcase what we do within the Unisys Global Service Desk, but also a tremendous opportunity for our global team to come together and demonstrate teamwork at its best! From putting together presentations, dance clips, associate testimonials and client feedback videos, he had a lot of fun in showcasing what we do best here at Unisys. 
We are delighted and thrilled to have been selected as a Finalist in 6 SDI Award Categories: Best Managed Service Provider, Best SD Customer Experience (CX), Best Service Transformation Project, Best Service Resilience, Team Leader and SD Agent of the Year!  
In the last 12 months, what has been the most successful initiative your team has implemented to help your business improve its performance?   
Our biggest success over the last 12 months is the implementation of InteliServeTM  – a technologically advanced digital managed service platform that positions Unisys clients to embrace artificial intelligence, machine learning, robotic process automation, cross platform integration, and mobility; all-in-one to provide best user experience.  
The innovative roadmap provides leading solutions around Amelia (AI/ML based virtual agent) which seamlessly spearheads the telephony and chat channels for all incoming interactions. It's smart, intelligent and continuously learning to save countless human hours used for providing routine services (password reset, VPN access, email etc.).   
The bots are working round the clock clearing well-defined tasks freeing up valuable time of Service Desk agents to focus on complex tasks. This cloud-based platform provides the necessary connect with client systems, applications and third-party services with layered security, controlled access, and data privacy compliance. And finally, our InteliApp, a customizable and configurable co-branded mobile app, available through app stores, empowers the user to get required support anywhere and anytime as we embrace the new hybrid way of working. 
What are your top 3 tips to make a service desk successful?   
Our associates are our greatest asset! We believe our team members are the most important part of the Global Service Desk. We always focus on actively training, developing and investing in our talent. We recognize and celebrate each and every SD team member. Our strength comes from our passion for teamwork and global diversity.

We look at the bigger picture and always put end user experience (EUX) first! We are constantly evaluating how we can deliver more value to our clients. This includes focusing on our SD agent experience and equipping our team with tools and processes which enable exceptional and seamless support journey for our end users!

We use technology to its fullest. From multi-lingual AI support tools, to customer-facing knowledge portals, to self-help guides and FAQs, we always try to provide our end users with seamless support and a variety of options to find what they need saving them valuable time to focus on their business goals.
What one thing do you think really makes you stand out as a service organisation?   
We are a diverse, global and unique Service Support Team. Our people are our biggest asset. We operate as a seamless unit, sharing the same objectives, processes and high standards of service. Am end user calling from anywhere in the world can speak to any of our Service Desk analysts, no matter where the analyst is based and can expect the same support and focus on end user experience.  
We continually receive high marks and accolades from our clients in annual client satisfaction surveys, along with high NPS scores. A hard combination to beat!  We consistently achieve a 98% or higher customer satisfaction rate, which we are extremely proud of! What better way to say how we stand out than to let our clients and their end user community do the talking for us… 
"Unisys' top-notch services, fast access and insights enable us to provide a modern workplace with secure, innovative solutions – making us more customer and consumer centric." Bart Kerkman, Head of Service Delivery, Henkel 
"Air France KLM focuses on exceptional standards of service to make travel comfortable for our customers. Unisys has brought innovation that enables us to give our employees digital proximity to IT resources needed to provide excellent service to our passengers." Jean-Christophe Lalanne, Group CIO, Air France KLM 
"Our partnership with Unisys allowed us to take an exceptionally complex environment and move it to a hybrid cloud to securely offer services that are reliable and responsive to the needs of half a million students across 23 campuses every day." Michael Berman​, Chief Information Officer​, California State University​ 
How are you preparing to evolve your service desk over the next few years? Please share your most exciting plan with us!   
We have a strategic 3-year roadmap to innovate and drive increased levels of End User Experience (EUX) combined with high focus on Unisys Associate Experience.  
Our Global Service Desk team is focusing on shifting to a mature EUX model enabling the end user to support themselves based on persona and tool set up enabling optimal experience anytime, anywhere.  
Additional examples of our Service Desk innovation include:  
Enterprise Personal Assistants are Bots that continually assess and build knowledge through natural language processing and machine learning. 
They provide Smart Assistance with interactive guidance to the end users to accelerate finding the correct self-help knowledge article. Our Service Desk platform combines analytics that drives operations, which then provides insight into the employee experience for enabling opportunities for optimum automation and engagement options.

 

They perform technical triage, which evaluates ticket data to determine the right resolver group the ticket should go to, minimising ticket hops between resolver groups. 

 
Causation Correlation capabilities which determine root cause of problems and eliminates issues before they even occur. 

"First Call Fix Flag" flags an incoming incident as one that should be fixed by Level 1 enabling Shift-Left. User sentiment analysis allows for a more in-depth understanding of users' sentiment and expectations for improvements.
As part of our evolution, we continually enhance omnichannel experiences through advanced analytics that examine every interaction to understand what transpired, identifies outcomes, and evaluates the end user experience—driving proactive issue resolution and continuous improvement. 
If you could choose any celebrity to work on your service desk, who would it be?   
What a great question! We would go with Maya Angelou as we love her work and particularly this quote: 
"people will forget what you said, people will forget what you did, but people will never forget how you made them feel".  
To us Maya captured the essence of end user experience in one sentence. This quote is completely in line with our goals and approach on how to shift support to experience based mindset as we continue to shift from SLAs to XLAs. We also love the quote from her on creativity:  
"You can't use up creativity. The more you use, the more you have." – which ties to our core belief of curiosity, creativity, client centricity and inclusion driving us to get better and more innovative each day. 
What does it mean to your team to be a finalist in the 'Best Large Enterprise Managed Service Provider' category?   
We are extremely humbled and thrilled to have been selected as a Finalist in 6 SDI Award Categories: Best Managed Service Provider, Best SD Customer Experience (CX), Best Service Transformation Project, Best Service Resilience, Team Leader and SD Agent of the Year! We cannot wait for the SDI Awards 2022 event and the opportunity for more networking, sharing and celebrating with our industry colleagues! 
To be a finalist in the SDI awards is a fantastic recognition of our hard work and a huge credit to our fantastic, global team. We continue to develop and mature our service year-over-year and our commitment to service improvement continues to strengthen us, both as a team and as a world-class service desk. We are delighted to be recognised by a globally renowned organisation like the Service Desk Institute, advocating and recognizing the highest levels of performance and service within our industry. 
What advice would you give to anyone entering the awards next year?   
Embrace the process and have fun! 

 

Take advantage of the opportunity to showcase what you do best by involving your entire team. What could be better for boosting team morale than the recognition and exposure of the work done by your whole team!

 

Believe in your abilities and share your success stories, no matter how small or large! 

 
What would you do to celebrate if your team won 'Best Large Enterprise Managed Service Provider'? 
Throughout the process we have been celebrating each SDI milestone with the Unisys Service Desk team and this has already injected a tremendous sense of pride, excitement and achievement into the team! 
If we won any of the SDI Awards, we would take every opportunity to share this great success with our associates across the entire organisation, via our internal Yammer & external social media sites such as LinkedIn, through service review meetings and company-wide communications.  
We would share this prestigious recognition by thanking our clients for their continuous support and partnership which helps us to be a world class service desk. We would celebrate with a myriad of fun events starting with the highly anticipated bash of the decade: the SDI Awards Event in Birmingham!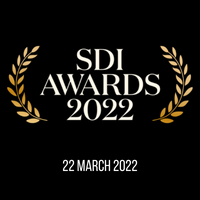 Find out more about this year's Awards categories and watch the highlights from the last Awards ceremony for a taster of this incredible event and what it means to our community.
SDI Awards are sponsored by: