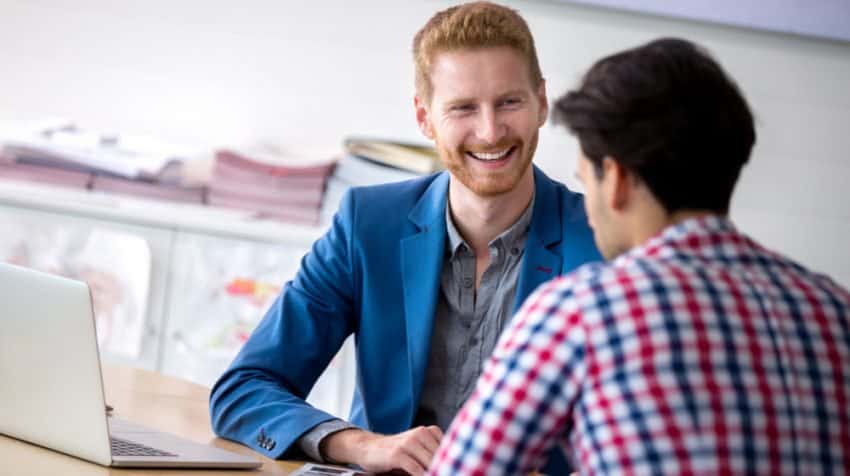 by Jamie Bell, Service Desk Specialist, SDI
The aim of this blog is to provide some insight into how a Service Desk Analyst may be able to add extra value to an organisation by utilising the knowledge, relationships, and experiences they have established. My background includes over a decade within Managed Service Providers, so while this blog has many MSP references, there are parallels to be drawn with internally resourced service desks.
Have you ever heard someone say: "everyone is a sales person"?
When you think of a sales person, the first thing that comes to mind might be someone going from door to door pitching the benefits of double glazing, an enthusiastic shop assistant, or perhaps your local fruit and veg market stall owner. You probably wouldn't associate a 'sales person' with, say, a Service Desk Analyst.
With that being said, imagine for a moment that you're the face of the IT organisation as a Service Desk Analyst being asked to sell something.  Initial reactions could be:
"We've got a sales team for that"
"We provide a service to our customers, we are not sales people"
"I'm a technician, not a sales person!"
These sorts of objections, whilst valid to a point, take a narrow view of what we mean by 'sales'. It isn't just about securing new customers; selling doesn't stop once the product or service has been purchased. This means it is not solely the responsibility of an individual or team with "sales", "business development" or "marketing" in their job titles to affect business growth. Great organisations recognise that selling continues long after the receipt of goods. The customer experience, brand awareness, and the integrity and trustworthiness of the organisation are all integral components that need to come together to ensure its ongoing success. An organisation doesn't have to rely on just the marketing and/or sales departments to create a buzz. Chances are, if you're a Service Desk Analyst in a mature IT organisation, you're already doing your bit to contribute to the promotion, marketing and selling of the service desk, and in some cases, the organisation.
Any of the following Service Desk activities could be considered a sales activity:
Providing an excellent customer experience
Educating users on how to self-serve
Promoting the benefits and culture of the Service Desk
Identifying areas for service improvement
The selling part of these activities can be achieved by providing consumers of the service with a fantastic experience and creating a positive perception, leaving the users far less likely to seek an alternative solution provider. Educating users on self-service will allow them to reach a resolution faster, whilst also reducing the number of incidents and requests being raised. This is ultimately what any organisation would want from their Service Desk.
If we relate this back to the scenarios we typically associate with a sales person, you are far less likely to return to a shop if you were provided with a bad service than if you were provided with a great one.  The initial engagement and the after-care both play a vital role in customer retention.
Within a Managed Service Provider (MSP), the benefits of a customer staying loyal to the service desk are enormous: customer retention is one of the main considerations for achieving continual growth. That said, within an internally resourced Service Desk, customer loyalty is also a really important factor. If users of the Service Desk have no confidence in the Service Desk's ability, they will seek resolutions elsewhere. This can lead to an inefficient service and loss of governance for example due to shadow IT.
I listed some examples of selling activities within the remit of the Service Desk, one of which is the practice of identifying areas for service improvement. This involves articulating why a suggestion might be an improvement on what already exists, providing advice on how to make something more efficient, cost effective or secure. This is the sort of advice that people would look for a consultant to provide.
Another example of sales activities within the remit Service Desk is educating users how to self-serve. This involves providing advice to users, in a non-patronising way, on how to reach a resolution faster for themselves, potentially without needing to interact with the Service Desk at all.
For an MSP, having a Service Desk Analyst engage in sales activities will result in positive outcomes beyond just customer loyalty. Analysts are typically the people on the front line, the people who interact with customers most regularly, and the people with the best understanding of a supported organisations most common IT issues. If identifying areas for service improvement are second nature to a Service Desk Analyst, the net result is likely to be an increased number of recognised opportunities to upsell products and services. Furthermore, it's considered that one of the most successful ways for an MSP to attract new clients is through word of mouth. Reputation is everything.
Similarly, an internally sourced Service Desk will benefit from a front-line team that engages in sales activities. Like with an MSP, the analysts are typically the people that interact with users most regularly. It's likely that they will have built good rapport and will be the team with the best experience of the organisation's most common IT issues. Identifying areas for service improvement could potentially lead to processes being more efficient, infrastructure being more reliable, and even information being more secure. Additionally, promoting self-service could allow users to reach resolutions faster and therefore reduce the number of interactions with the Service Desk.
If your organisation doesn't expect analysts to engage in selling activities, or encourage them to consider the wider impact of their interactions with customers, you may be overlooking an untapped resource full of invaluable information and expertise that could add a lot of value beyond responding to incidents and request fulfilment.