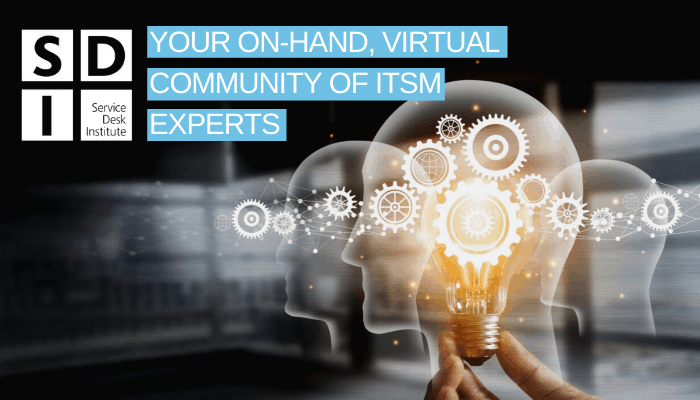 As the global slowdown is thrust upon us, we now have a fantastic opportunity to shine through adversity – to be adaptable, fast and flexible, to start planing for the next better set of opportunities.
It's in these uncertain times that now more than ever, SDI want to support our brilliant ITSM community to stay safe and continue to deliver fantastic IT services to their customers. We are here to help you to continue to be brilliant!
We want to ensure our members and the wider IT community stay connected with each other to share tips, advice, experience and support while we head through the uncertain paths ahead together, you are not alone!
Take back control and use this time to get some new initiatives off the ground, ensure your team keeps learning and stays motivated, work with SDI's consultants to help you uncover your next set of priorities and get an action plan in place, ensure your team continue to delver outstanding service to your customers while keeping our workforces working.
On-hand, Virtual Support
Our community has let us know that the challenges they are facing in the upcoming weeks and months are things like:
• Business continuity (Process & Automation)
• Scaling services (on-premise availability and capacity)
• Asset Management (ITAM, SAM, SACM)
• Demand for service (workforce management, resourcing)
• Remote working (technology and collaboration tools, people management, team cohesiveness, logistics and set up)
• Staff well-being
To name a few! If any of these challenges are likely to affect your team and business, SDI's experts can help.
However, it is also very likely that a lot of IT services at the moment aren't sure what help and support they are likely to need in continuing to deliver services to their customers. And don't know what specific challenges they will face until they arrive. SDI's experts can help you here too.
Ask The Experts – Your Direct Line to a Service Management Pro
SDI's 'Ask the Experts' service is here to help service operations and management pros, just like you, get access to our subject matter experts quickly. Whatever you need support with, we can get the answers for you.
From Business Continuity to Moral Support
Whether you'd like to discuss and sound-out your potential contingency plans, get information and guidance on setting up new ways of working or just want some moral support and positivity to enable you to keep your team in good spirits, 'Ask The Experts' can support you.
One of our industry's greatest challenges right now is finding the 'new normal' and limiting the impact of coronavirus on our businesses. I
t's doubly important to seek out opportunities to innovate and learn, opportunities to become even closer as a team and add value to our customers and service in different, new ways.
At SDI we understand you'll be looking at supporting, engaging and developing your team not only now, but in the longer term too  – and we are here to help you with that! To help you make your money go further,  and to help you support and develop your team at at time that's right for you.

Some of the things SDI are doing that you might find helpful ☺ :
• All SDI training courses, qualifications and workshops from March – June (for now) are being delivered virtually. SDI have been experts in virtual training delivery for years, we have top industry trainers who are familiar with delivering engaging training courses through our online, interactive classroom environment.
• Our upcoming SDI experience events are now FREE and available to join virtually, from 'New Ways of Working', to 'Knowledge Management' or even if you just want to join for the online networking opportunities – stay connected and join us, we'd love to have you there.
• If you're a manager who has suddenly found themselves leading a virtual team, get in touch, we have so many resources, experts and sources of help available to you.
• And when the time is right for you and your team, we can help you to support, engage and develop your team for the longer term too. Let us help you make your money go further with our 'Beat The Budget' vouchers, available in denominations of your choice starting at £500.
Join other IT Services currently utilising this convenient community support platform. You don't need to know exactly what advice you are asking for, all you need to do is start the conversation. You can find out more about

Ask The Expert Hours

online, or contact the SDI team via live chat, email or telephone, get in touch.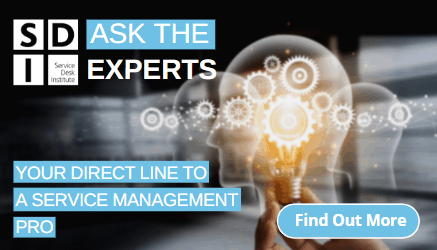 SDI's Senior Research Analyst Scarlett Bayes, has kindly pulled together a list of free resources and insight reports you may find useful at this time, enjoy! :
Implementing a Knowledge-Sharing Culture for Better Knowledge Management
Measuring and Making the Most of Metrics
Defining and Dealing with the Unrealistic
Boost Your Teams Performance – (SDI Event Resources)
Webinar: Integrating And Automating Processes And Tools
Webinar: Continuous Improvement for the Service Desk Through Automated Workflows
Webinar: Service Desk Automation in Action
A Disaster Recovery Story, University of Leeds (Meme) Edition
Reviewing & Refining Existing Processes